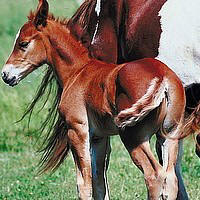 Castleton Ranch Horse Rescue Inc is a CA registered 501 (c) (3) non-profit organization which was formed in 2004 by experienced horse people, who, after deriving many years of pleasure working with these sentient, sensitive animals, wanted to give something back to them by way of the important and badly needed services which we provide today. Our operation in staffed entirely by volunteers who work selflessly without compensation toward achieving our mission. We provide rescue, rehabilitation, adoption and retirement for horses from many different situations. The targeted end result of our work is to place every rescued horse into our adoption program where they can find a new loving and caring home. Horses which cannot be rehabilitated for adoption due to long term illness, old age, injury or some social difficulty will be retired at our rescue/sanctuary where they can live out the rest of their days in a caring and loving environment with dignity and a quality of life so deserving. Through our educational programs and initiatives, we hope to instill love, compassion, respect and awareness in and around our community. We are honoured each and every day to work with these beautiful horses and provide them the specialist care and training they need which will give them a chance of a happy and healthy future.
Castleton Ranch Horse Rescue Inc are proud members of American Humane and A.S.P.C.A. Our rescue programs are carried out in alliance with local veterinary and animal welfare agencies.
Castleton Wish List
The following are items that we desperately need:
Hay (Alfalfa 1 or 2)

Alfalfa Cubes

Grain or pellets all types and brands

Horse Treats

Small Tractor

Indoor arena or roundpen

Wormers and medical supplies

Fly spray

Shampoo

Shavings

Corrals

Corral shaders

Shade trees

Show Jumping Fences

Lead ropes and Lunge Lines

Brushes

Grooming Products

Home Depot/ Lowes/ Ace Hardware or Staples Gift Certificates
Any of the above would help us continue to provide the loving care and attention that all horses in need deserve. Thank you so much for caring.
Any items can be mailed or delivered to Castleton Ranch Horse Rescue, 12103 East Avenue H, Lancaster, CA 93535. Telephone 661.946.8513
How to help us
In addition to the items on our Wish List all cash or check donations are urgently needed. Please make checks or money orders payable to Castleton Ranch Horse Rescue inc. Our mailing address is 12103 East Avenue H, Lancaster, California 93535. Telephone 661.946.8513
We can also accept credit card and internet donations via Paypal. Please send any donations to castletonranch@hotmail.com
All Donations are Tax Deductible. A copy of our 501 (c) (3) status is available on request.
Thank you so much for your kind support.
We would like to say a special thank you to all those individuals and organizations who have stepped forward to help with our work. We could not have made the progress we have without your kind and generous support.
Thank you so much.