Christmas Central - Homemade Gift Ideas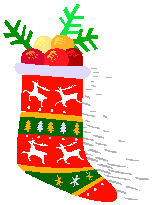 Pinecone Bird Feeders
you'll need:
Several pinecones
a 1 or 2 pound plastic tub of peanut butter
premixed birdseed
sturdy nylon string
shallow pie plate
waxed paper
plastic bag
newspapers or plastic tarp
Cover your work surface with old newspapers or a plastic tarp. Open peanut butter tub and remove seal. Cover container with cellophane wrap (loosely draped over the top) and microwave on high for 2 minutes. Stir with a chopstick or spoon handle until peanut butter is a smooth liquid and not scalding hot. Pour liquid peanut butter into a shallow pie plate. Fill your plastic bag with 2 cups of birdseed. Roll pinecones (one at at time) in melted peanut butter, allowing the excess to drip into the pie plate. Drop the coated pinecone into the birdseed bag, secure closed, then shake bag to cover the pinecone with seeds. Place coated pinecones on waxed paper to cool To finish, tie a long nylon string to the pinecone stem.
Place several pinecones in a small Christmas bowl and wrap with colored plastic wrap like a fruit basket. Tie with a bow and present this thoughtful gift to one of your animal loving friends. They'll love you for it and so will their little feathered friends!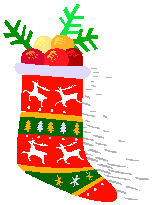 Teapot Bouquet
Find a pretty, small teapot. You can find some really different ones at a thrift shop or a flea market, just make sure it's in good shape on the outside. Place some plastic or silk Christmas colored flowers and some faux holly inside the pot. Attach the lid to the teapot by tying some raffia or Holiday ribbon round the tip and then around the handle. This is a cute decoration for you or a gift.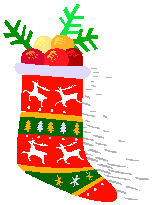 Tiny Sachets
Buy some holiday fabric. Cut out some 4" squares. Pin two squares together, with wrong side facing out. Stitch just inside the hem on all sides leaving an opening large enough to stuff. Turn sachet so the right side is out. Get some cloves and snip off the stem leaving only a round ball. Place at least a dozen clove balls inside the sachet along with the pillow stuffing. Stitch the opening closed. Place three of them on top of each other and tie them up with lace ribbon for a final decorative touch.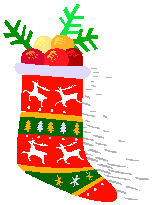 Peanut Christmas Wreath
Hot glue real peanuts (still in the shell) around a wreath circle. Use plenty of peanuts to make the wreath look full. Dot the wreath with faux holly all around. Hot glue a holiday bow and another holly strip to the top of wreath.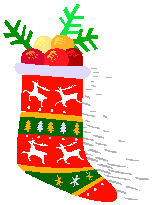 Velvet Christmas Pillow
Buy or make 2 small, green velvet pillows and trim with gold cord. Use a little thicker gold cord to tie around the middle, then tie a knot. Sew on 2 or 3 beautiful ornaments to the cord for extra decoration.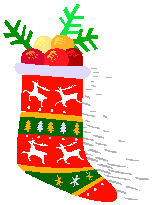 Hand Painted Christmas Ornaments
you'll need:
Clear glass ornaments
Gold puff paint
Ultra-fine glitter
Dry brush
Gold metallic ribbon, 1" wide
Craft glue
Pearlescent ornaments
Sea sponge
Use puff paint to add dots, squiggly line and evenly spaced lines all over the ornament. Try dotted spirals and vertical lines too. While still damp, dust with glitter. Hang to dry. When glitter is dry, remove excess with a dry brush. Tie a gold metallic ribbon to the hanger. Vary the ribbon color to coordinate with the glitter hue, or add a contrasting ribbon for interesting effects.
For the pearlescent ornament, coat craft glue light onto the surface with a sea sponge. Use a random pattern to achieve the most attractive effect. While still damp, dust with glitter. Discard glitter residue. Hang to dry. Put several of these in a clear glass bowl for a nice effect.