Auto & Motorcycle Parts, Accessories & Information
Auto Barn
Auto Barn has been serving the automotive enthusiast and professional installer in New York since 1957. Auto Barn now brings their experience, service, and tremendous inventory to customers across the United States. Their 50,000 square foot warehouse stocks over 35,000 name-brand parts and accessories making them one of New York's largest auto parts & accessories retailers and wholesalers.
*Always Free shipping on orders over $150.00
At Cars Direct you can research new cars, buy new and used cars and even sell your own used car online! CarsDirect.com has been rated the #1 car-buying site or top Internet site by Forbes, Time, PC Magazine, and Yahoo! Internet Life, among others.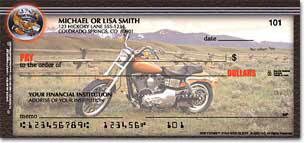 Harley-Davidson Checks at Checks Unlimited
Harley-Davidson® checks and address labels with current-model Harleys cruising on the back roads of America.
My Cleaning Products
My Cleaning Products is Florida's leading manufacturer of green cleaning products and are now available online. They carry a wide variety of items including:
Natural mosquito repellents

Mold cleaners & prevention kits

Green carpet cleaners

Fishermen Hand Sanitizers

Rust Removers & Prevention Kits

Pet Stain and Odor Removers

Green Marble Cleaners

Auto Detailing Products

Degreasers & All Purpose Cleaners
Plus you'll find low everyday prices and free shipping on orders of $60 or more.
*Click here to see My Cleaning Products Coupons & Promotions
To Be Fast
To be Fast is the online destination for McCoy Motorsports, a major leader for all your motorsport needs. They offer everything you need for your bike, ATV, auto or T-Rex! If you're looking to upgrade your performance or build from scratch, it's all at McCoy Motorsports! From basic parts to advanced customizing from all the major brands including Yamaha, Suzuki, Dodge, Chevrolet and dozens more. They build custom bikes for customers and dealers worldwide.
*Click here to see all To Be Fast Coupons & Promotions!